Tips for shopping for a new dining set this fall
Today marks the first day of fall and I can't contain my excitement! We are picking out pumpkins, kids are back to school and our schedules are filling up quickly. With so much to do who has time to shop for a new dining set?
It's as easy as 1, 2, 3...
Step 1: Measure twice, buy once
Measuring your dining space is important. Measuring it correctly is something some may not know how to do. Measure your room for the desired dining table dimensions and then add  3 ft of space around the table to allow room for chairs to be pushed out. If you have walls surrounding your table this is very important. If you have a walkway on one side of your space, I suggest getting a backless bench to add some contrast to your dining set. It also serves as seating that can be pushed under the table when not in use.
Step 2: Know your options
Beautiful dining sets are available in endless styles and colors. Some of us forget that they can have handy features too. If you are a fan of storage consider a dining set with built-in drawers or storage underneath. This can be a great way to stow away that fancy china or cutlery if you do not wish to invest in a china cabinet or buffet. Self-storing "butterfly" leaves are also a great feature for those who do not wish to store part of their table top in a closet. Ask your sales associate to show you tables with these options! 
Step 3: Don't be afraid of fabric
Upholstered chairs and benches are a fun way to add texture and style to your dining space. Tall upholstered chairs with arms add drama to a table and you can easily recover dining chairs over the years to update your dining space. If you are worried about stains, consider applying Guardsman Fabric Protector to your set before use.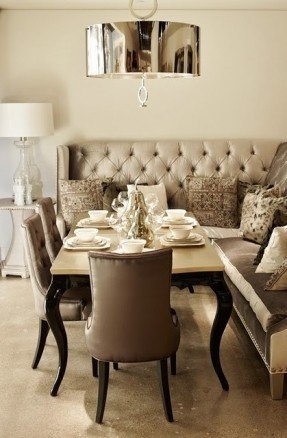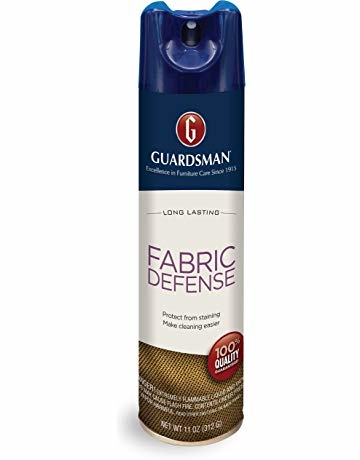 This product is offered in our store for $10.99
Step 3: Ask about the product quality
Many beautiful dining options come in other forms besides solid wood these days. That does not mean that they wont last. Ask your sales associate to explain to you what your dining set is made of and how to properly care for it to ensure your investment will last.
I hope this advice leads you to finding the next dining set of your dreams. Feel free to message us for a personal shopping experience!
Many blessings, Sky